Committed to Accessibility in Learning
Deliver a learning experience that meets the needs of all people, regardless of age or ability.
Crafting Learning That Meets Everyone's Needs
We believe that every mind matters and access to high-quality learning should be universal.
Our inclusive UX research and product design process means we consider accessibility and engage people with diverse abilities at every stage. It's more than a rubber stamp. We go beyond compliance and the letter of the law in our commitment to accessibility by nurturing an organization-wide culture of accessibility and inclusion.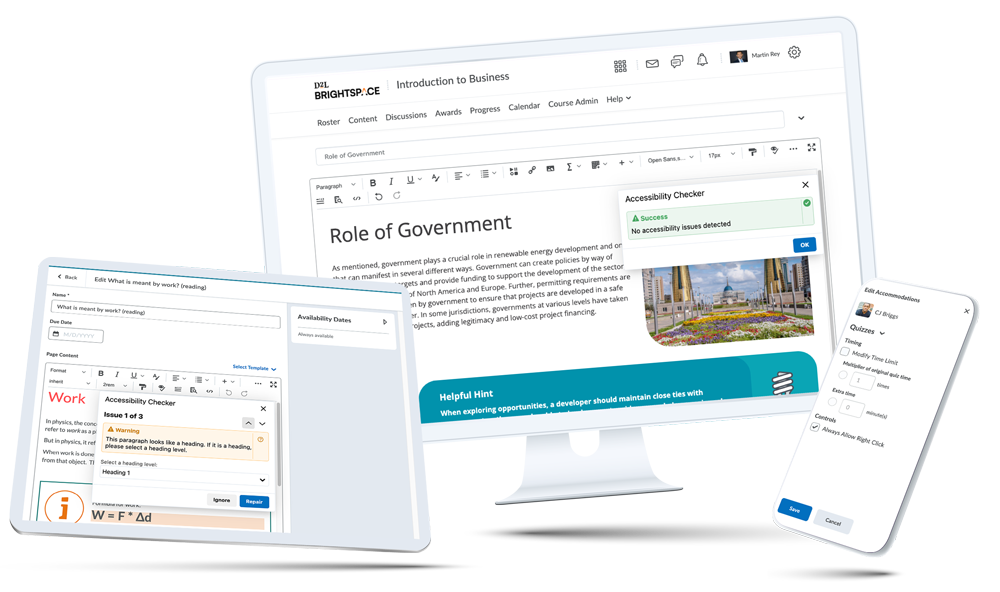 Conforming to Accessibility Standards
We constantly strive to ensure that our learning platforms work seamlessly with various assistive technologies to provide a great learning experience to people with diverse needs. We integrate the latest global accessibility standards into our product process and openly report conformance to the Web Content Accessibility Guidelines (WCAG) 2.1 Level AAA standards and compliance with Section 508 of the Rehabilitation Act, 1973. Our latest accessibility reports are posted on the Accessibility Standards page.
Supporting Clients Through Full Stack Accessibility
Technology
Enable independent and effective teaching and learning.
Content
Support the creation and consumption of accessible learning content.
Pedagogy
Facilitate universal design for learning as a practice of inclusive pedagogy.
Collaborating With Our Community
D2L is the only educational technology company that has been a member of the National Federation of the Blind's (NFB) Strategic Nonvisual Access Partnership  program since 2016. NFB provides advisory services where needed through this program and conducts accessibility audits of Brightspace and websites.
We have nurtured an active Accessibility Interest Group for over ten years. This open forum of accessibility enthusiasts and persons with disabilities in organizations that use D2L software meets every month to discuss topics of collective interest and connects via a mailing list at other times. 
Our customers who support people with disabilities—including the International Disability Alliance, Vision Australia, Canadian National Institute for the Blind, Canadian Hearing Services and more—help us ensure that our learning platforms remains usable to all learners, instructors, admins and other staff. 
At the executive level, we run a quarterly meeting of our Accessibility Advisory Board drawn from customers who care deeply about accessibility to explore emerging educational practices and technologies that help remove barriers to access in education.