Do your employees have the skills your organisation will need for the future of work?
Today, people are more educated than ever. Between 1960 and 2020, high school graduate numbers jumped from 41% to 90% of the U.S. population. College graduate rates almost quadrupled from 7.7% to 37.5% in the same period. And from 1980 to 2020, global literacy increased from 68% to 86%.
However, that boost in education hasn't meant smooth sailing in the labour market. If anything, it's quite the opposite.
Chamath Palihapitiya, CEO of Social Capital, a venture capital fund focusing on solving the world's most difficult problems, recently discussed the issue on the All-In Podcast.
"We have a massive employment gap. The data tells you in every which way possible. We are not educating our young people to take the jobs that are needed for a high-growth, functioning, moving economy," he says.
Employers are hyper-aware of being left behind as digital transformations, artificial intelligence (AI) and machine learning (ML) adoption, and the shift to remote work speed up. Job postings now ask for more than functional or technical skills. Employers also want strong interpersonal and durable skills such as emotional intelligence, leadership, collaboration, problem-solving, learning agility and creativity.
The work people do and the skills they need to do it are changing faster than we can keep pace. Upskilling can help organizations close those widening skills gaps, become more resilient for the future and address challenges such as employee engagement and attrition.
We know there's a problem. We know it's more urgent than ever. So how do we fix it?
In this article, we'll cover:
What upskilling is
The difference between upskilling and reskilling
The widening skills gap
How to upskill employees
Upskilling at your company
What Is Upskilling?
Upskilling initiatives give employees opportunities to gain more advanced skills in their careers. For employees, it's about getting the knowledge and expertise needed to advance within their current career path. For companies, it's about building more resilient, future-forward organizations that are equipped to tackle tomorrow's challenges with internal talent.
Hiring specialists to fill skills gaps is more challenging than ever in today's labour market. With 48 million people quitting jobs last year in the U.S. alone and an unprecedented number of job openings sitting unfilled, employers are overhauling their talent strategies.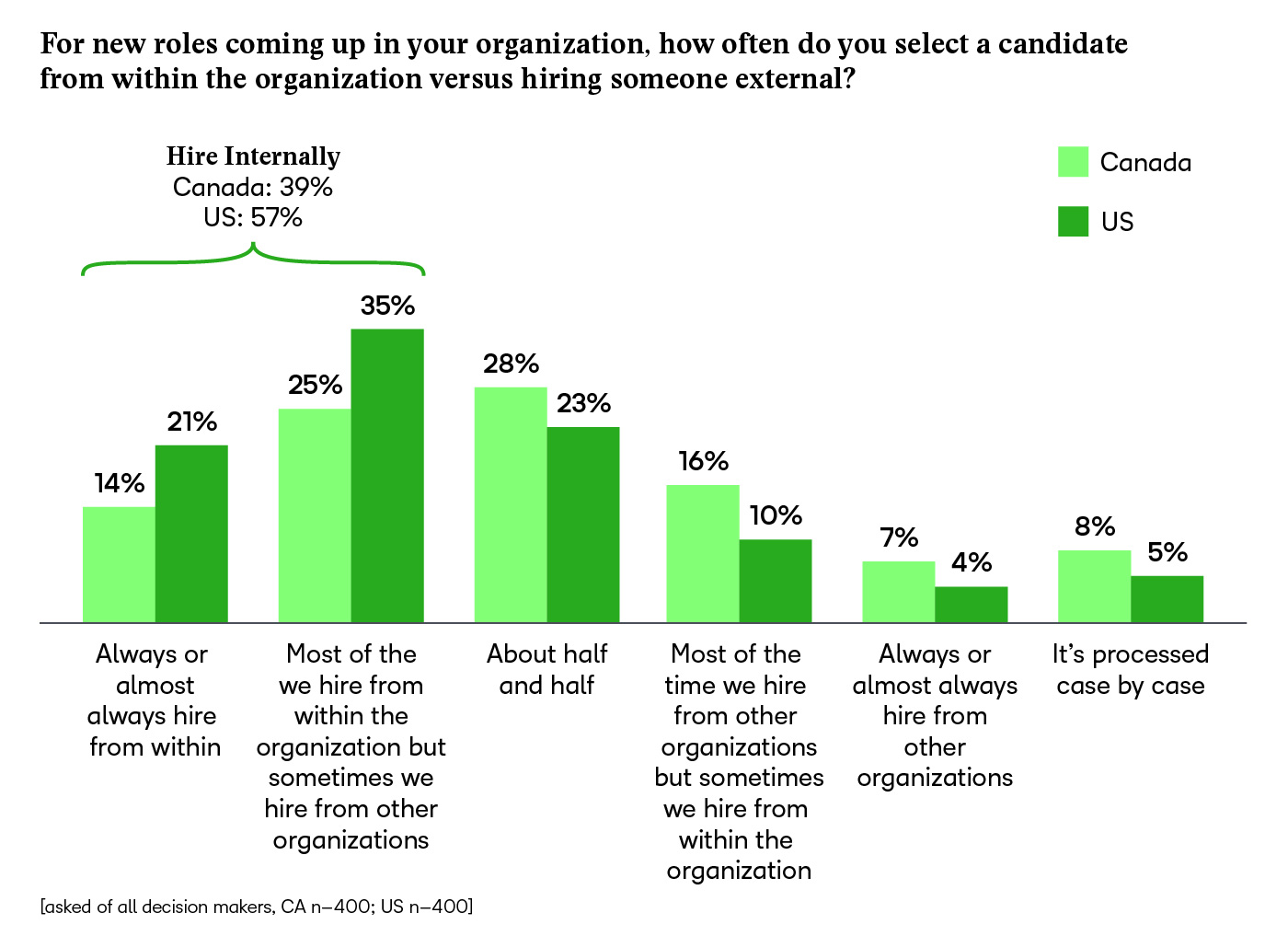 SOURCE: Enabling Upskilling at Scale (D2L North America)
People want to succeed at work and are interested in upskilling above and beyond what companies currently offer. The good news is companies are answering the call. Amazon has pledged to invest $1.2 billion in upskilling its employees by 2025. In 2020, Microsoft launched initiatives to upskill 25 million people globally. And Salesforce is providing free, immersive upskilling opportunities for prospective employees. It has committed to creating 9.3 million new jobs worldwide by 2026 through this initiative.
As organisations accept that they can't simply hire people to fill skills gaps, investment in learning and development (L&D) has skyrocketed. LinkedIn's 2022 Workplace Learning Report saw demand for L&D specialists increase by 94% from July through September 2020 to April through June 2021.
"Having a learning plan and a system in place to support that plan helps with growth and retention," says John Baker, president and CEO of D2L. "In a world where talent is a top-three issue for every CEO, we need to move quickly to put in place a better learning experience—for onboarding, upskilling and leadership development. No leader wants to lose the talent they have, and the key to this is investing in individual employee growth. Upskilling drives retention, supports transformation efforts and builds a growth culture—and is key to retaining talent and attracting people who see your company as the best place to grow in their career."
Successful upskilling programs align L&D with long-term business strategies to address widening skills gaps. We're now witnessing a shift from people ops being an administrative cost centre to strategic, revenue-generating partners.
Cassie Naji, VP of people development at Animalz, a 150-person B2B content marketing agency, was an early believer in the power of L&D. In 2019, she formed a one-person department dedicated to creating and executing an L&D strategy. Upskilling was and continues to be a focus.
"Within the L&D strategy, I would say that over 50% of activities need to be dedicated to upskilling (as opposed to reskilling, redeploying and personal development initiatives)," says Naji. "That weighting is down to the economic imperative of upskilling—helping a tenured team member build on their baseline skill set often makes greater business sense than hiring a new, specialised person."

Upskilling fosters a culture of internal growth and can improve retention by promoting from within. LinkedIn's 2022 Workplace Learning Report found that companies that excel at internal mobility retain employees for 5.4 years on average, almost twice as long as companies that don't.
While upskilling is primarily a retention strategy, it can also help companies attract well-qualified, high-potential employees. Amazon and Gallup's upskilling study of 15,000 workers in 2021 found that 48% of employees would switch to a new job if it came with skills training. Also, skills gaps are often greater in under-represented groups, so upskilling can be a key component of a diversity, equity and inclusion strategy.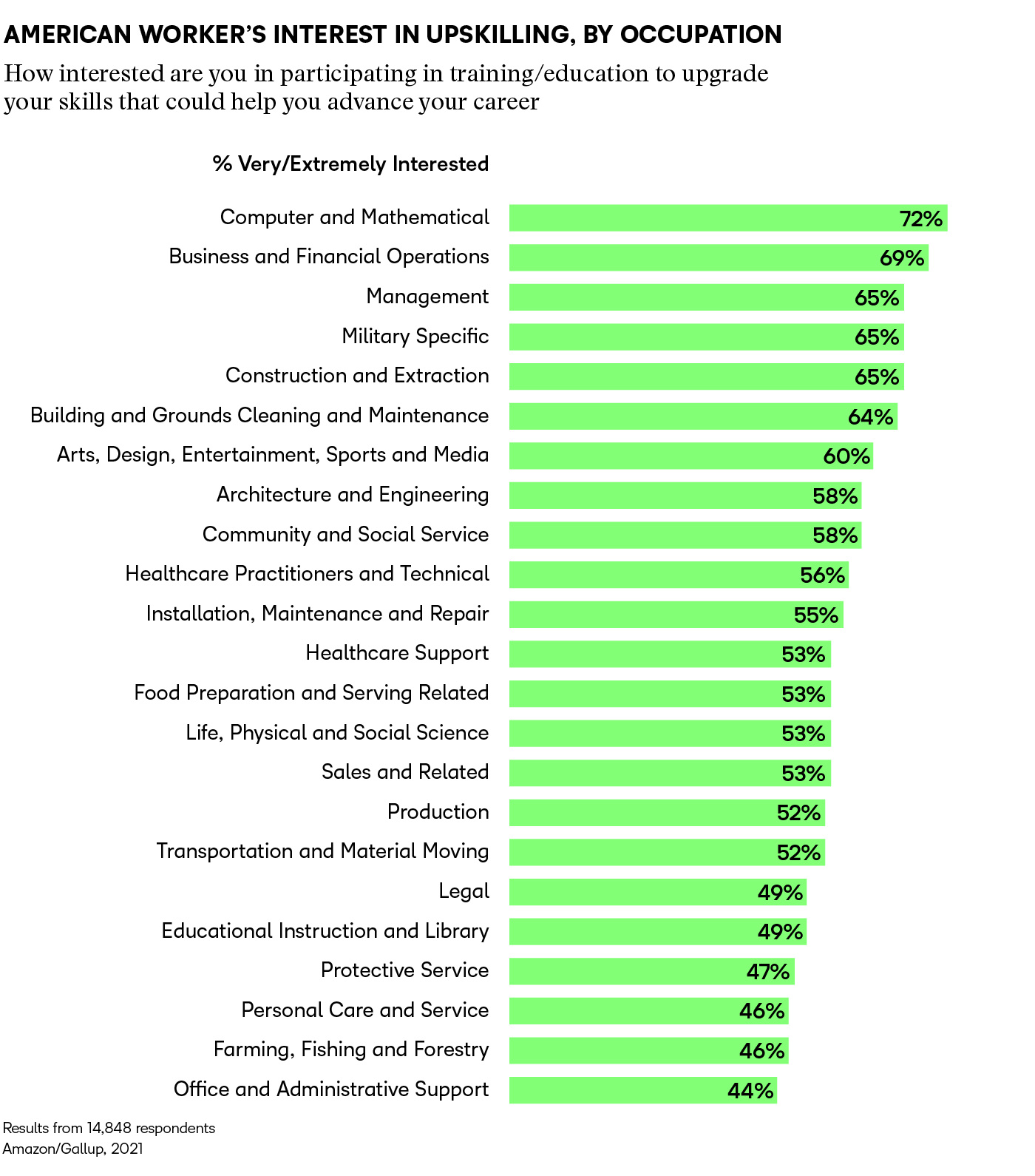 SOURCE: The American Upskilling Study (Gallup, commissioned by Amazon)
The interest in and need for upskilling programs are clear, but companies often lag behind the interest in programs.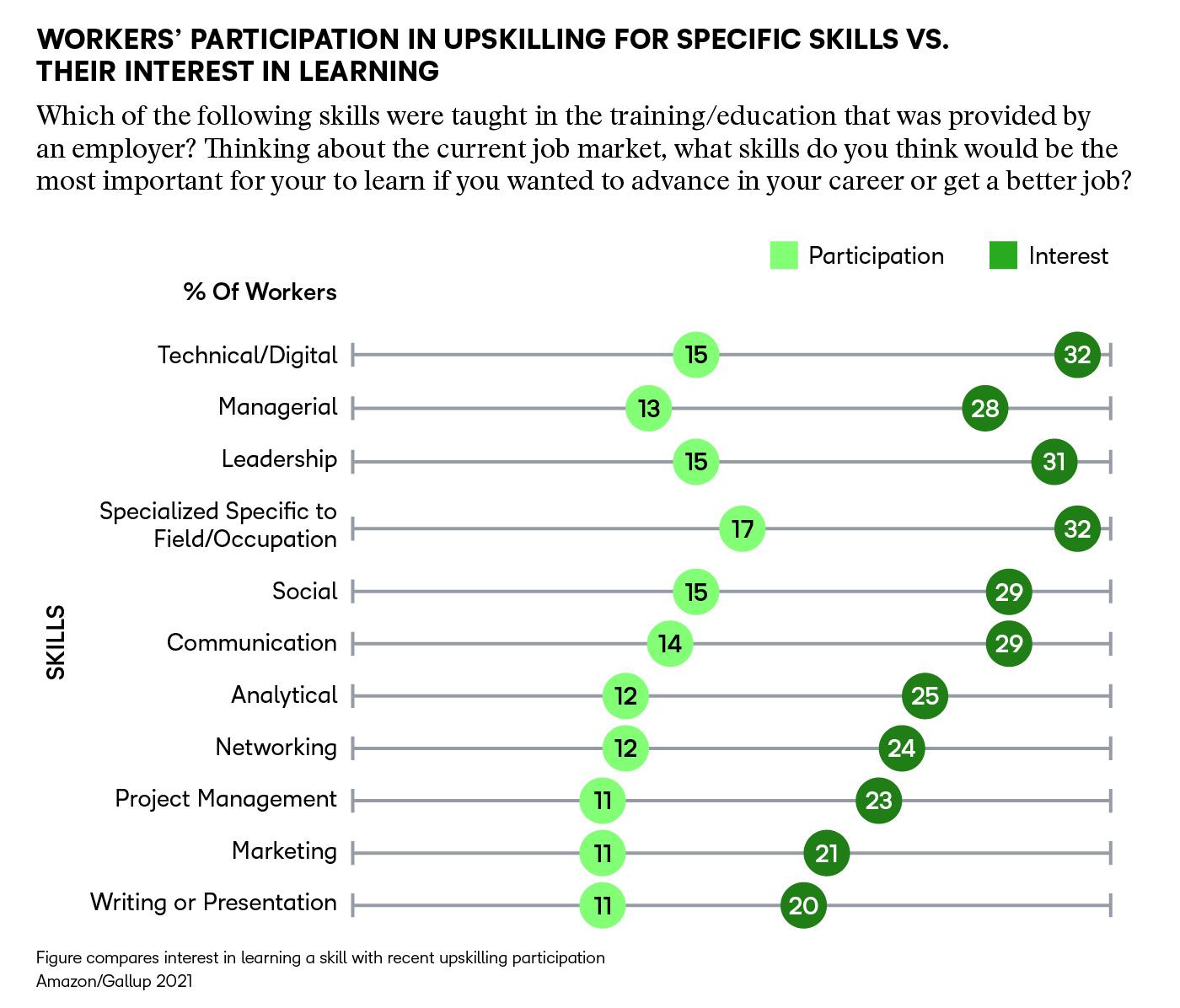 SOURCE: The American Upskilling Study (Gallup, commissioned by Amazon)
To meet demand, companies are beginning to offer diverse upskilling programs to cater to the variety of skills they're focused on improving within their teams.
Some of the most common upskilling programs include:
Micro-learning, which makes targeted skill acquisition digestible and easy to fit into busy schedules
An upskilling curriculum created and curated by experts and offered through a learning management system
Peer mentorship between more senior and less experienced employees
Skill sharing to provide a platform for team members to talk about and solidify what they're learning
Boot camps that combine theory and practice to nurture a functional technical skill
Tuition reimbursement for relevant certificate programs or degrees
SOURCE: Enabling Upskilling at Scale (D2L North America)
Upskilling programs aren't one size fits all for employees, teams or companies. Commonly cited examples of upskilling programs come from massive organisations, but small companies can and should prioritise upskilling too.
"Employees need access to programs to help build their skills throughout their careers and employers need the means to provide that training to maintain skilled talent," says Baker. "But it's clear from our research that many small and midsized enterprises in North America are struggling to provide these valuable upskilling opportunities for their employees, even as their employees are looking for ways to keep learning. This is a big problem that will only get worse if we, together, don't act soon to help solve it."
If you're a small company short on resources, there are still plenty of ways to help your team members upskill. For example, providing recommended resources, training time and an L&D stipend with clear guidelines (aligned with your long-term strategy) can encourage bottom-up upskilling.
The Difference Between Upskilling and Reskilling
Whereas upskilling equips employees to take the next step in their current career path, reskilling helps them build new skills to pursue a different track aligned with the evolving needs of the organisation. The former enables vertical talent mobility. The latter supports horizontal talent mobility between and across teams.
| | |
| --- | --- |
| Upskilling | Reskilling |
| Enables vertical talent mobility | Supports horizontal talent mobility between and across teams |
| A continuous effort, giving employees opportunities to increase their expertise over time | Often a one-time initiative to shift the responsibilities of a specific role or department |
Both upskilling and reskilling require multiple phases for planning and implementation and can work in tandem. If you have a team with limited digital skills, for example, you may start by upskilling them to improve their digital literacy. With your company's strategic goal in mind of leveraging more artificial intelligence and machine learning to reduce monotonous analog work, this may be the first step toward reskilling them for high-impact jobs as increased efficiency may decrease headcount needs in their department.

In the age of automation, reskilling is a key part of corporate social responsibility. McKinsey & Company research encourages companies to think beyond bottom-line business interests, using automation as an opportunity to serve long-term societal goals and create new, higher-skilled opportunities. Organisations including Verizon, Accenture and Intel run reskilling programs to help employees transition into new roles.
Reskilling also creates opportunities for people who left the workforce to return to work in new roles. Nearly two million women left the workforce during the pandemic, with women of colour and women with disabilities being disproportionately affected. Reskilling programs can support high-potential, diverse talent and help prevent systematically disadvantaged populations in particular from being left behind.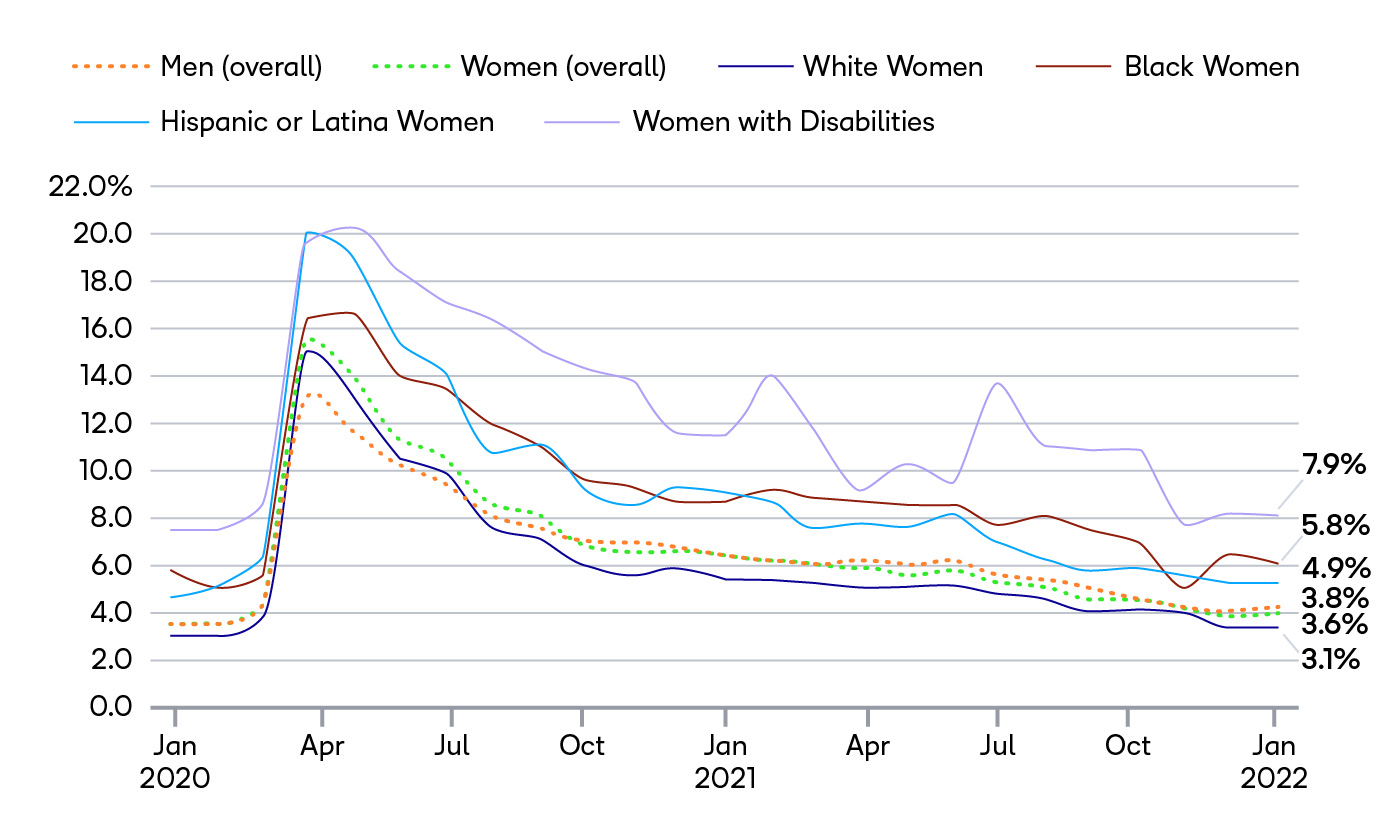 DATA SOURCE: U.S. Bureau of Labor and Statistics
The Widening Skills Gap
Upskilling needs are a moving target, given the pace of innovation and current talent availability. Not only do many employees already lack the key skills needed to do their jobs, but the gaps are also increasing.
The conversation about the advance of emerging technologies—AI, ML and robotics—has shifted from technological advances taking away jobs to creating new ones for which many organisations are underprepared.
Yet, while the pandemic may have widened the skills gap, it didn't create it. LinkedIn found that the skill sets needed for jobs have shifted by about 25% since 2015. By 2027, the research projects that number will hit 50%.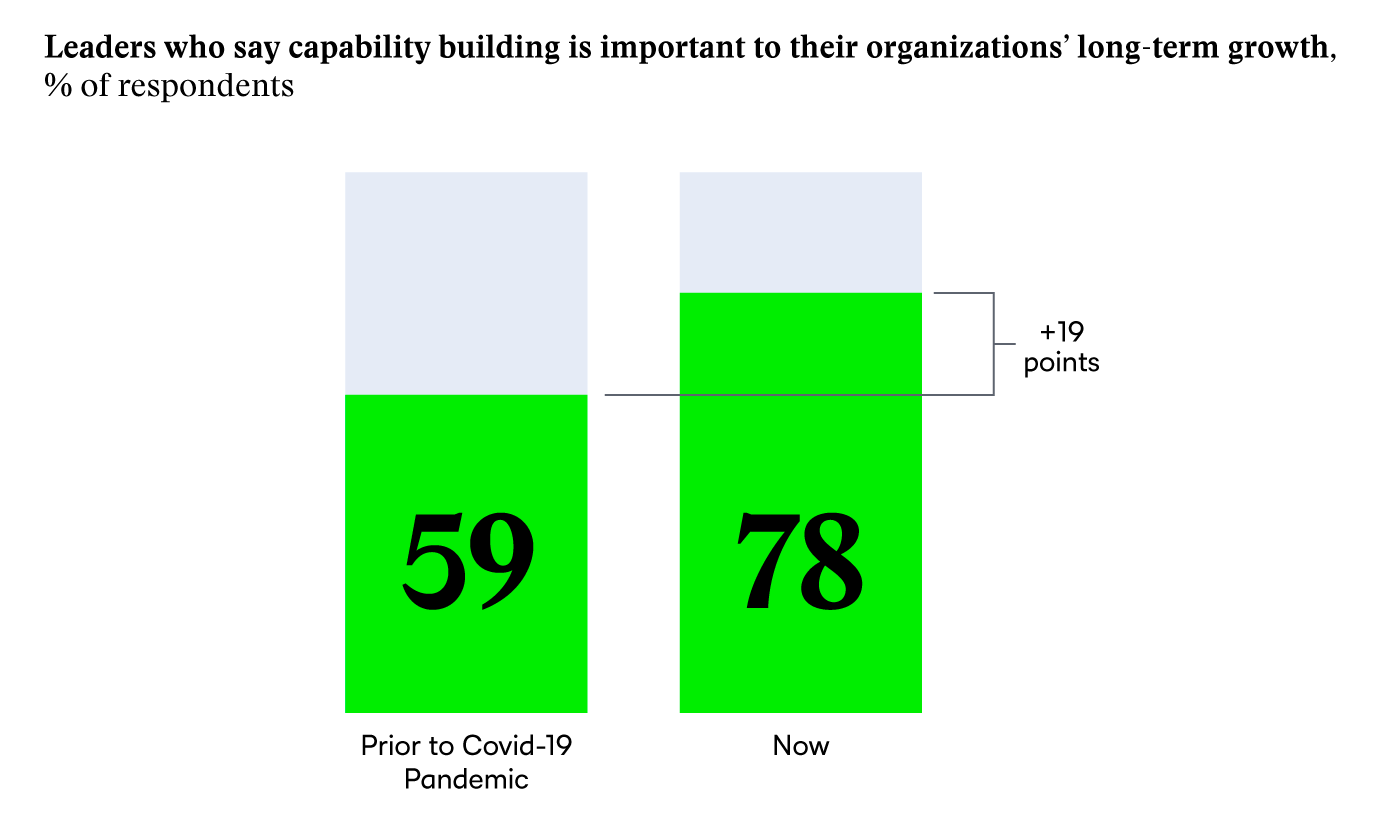 SOURCE: The skillful corporation (McKinsey & Company)
Add to that the interest in digital transformation, which is up 90 times since 2010. As companies across industries explore ways to digitise processes, systems and customer journeys, a lack of basic digital skills training puts organisations at risk of losing their competitive edge. Organisations may spend unnecessary time and money addressing inefficiencies without considering the root causes of the problem: skills gaps.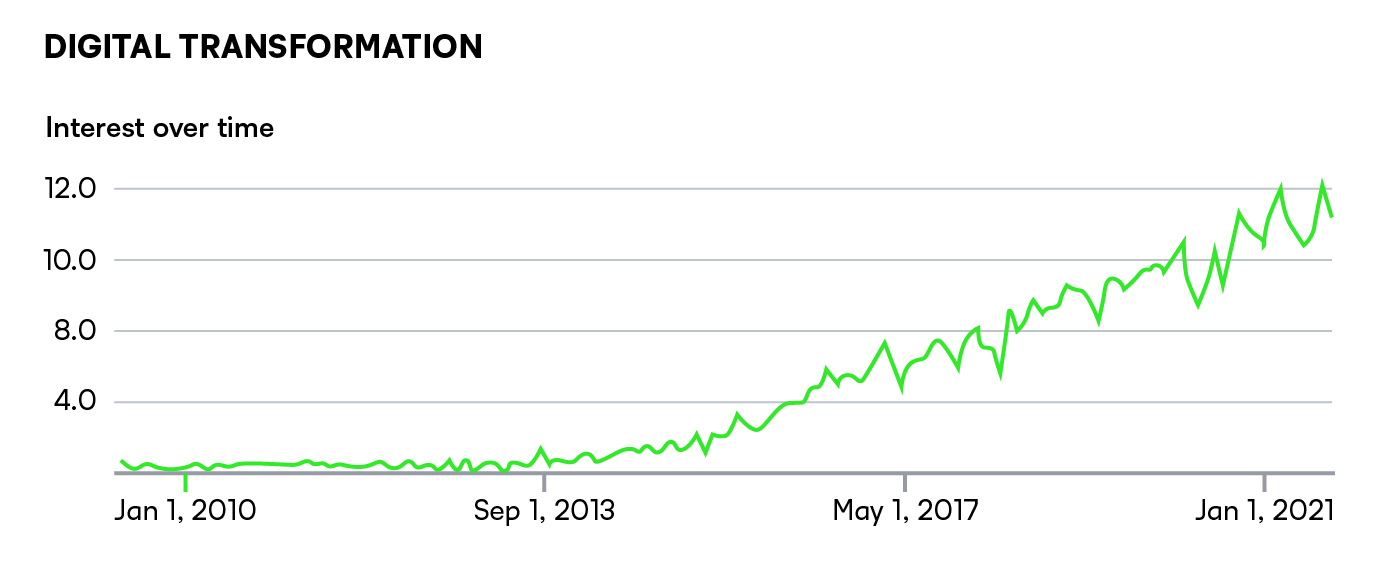 SOURCE: Google Trends
Leaders have a lot to balance between keeping their businesses running and helping team members build new skills and broaden existing ones.
Beyond digital transformation, companies are grappling with an 87% increase in remote work since 2020. While remote and hybrid work arrangements can increase productivity and reduce costs for team members and employers, they also create challenges, including fewer informal communication opportunities, less informal communication among team members, loss of company culture and unequal access to learning.
With the volume of open jobs, many employers are hiring high-potential employees with coachable skills gaps. Platforms such as Ramped are helping candidates transition out of jobs with pay and/or growth ceilings into higher-paying opportunities with upward mobility. Mentor programs and boot camps for everything from coding to marketing to technical skill building are helping candidates too. However, these have to be complemented with training at work.
To set up employees for success, clear direction and structured on-the-job learning opportunities are essential.
How to Upskill Employees
How can a company successfully address the widening skills gap? Before 2021, the focus may have been on hiring. Today, however, most companies are turning instead to upskilling and reskilling.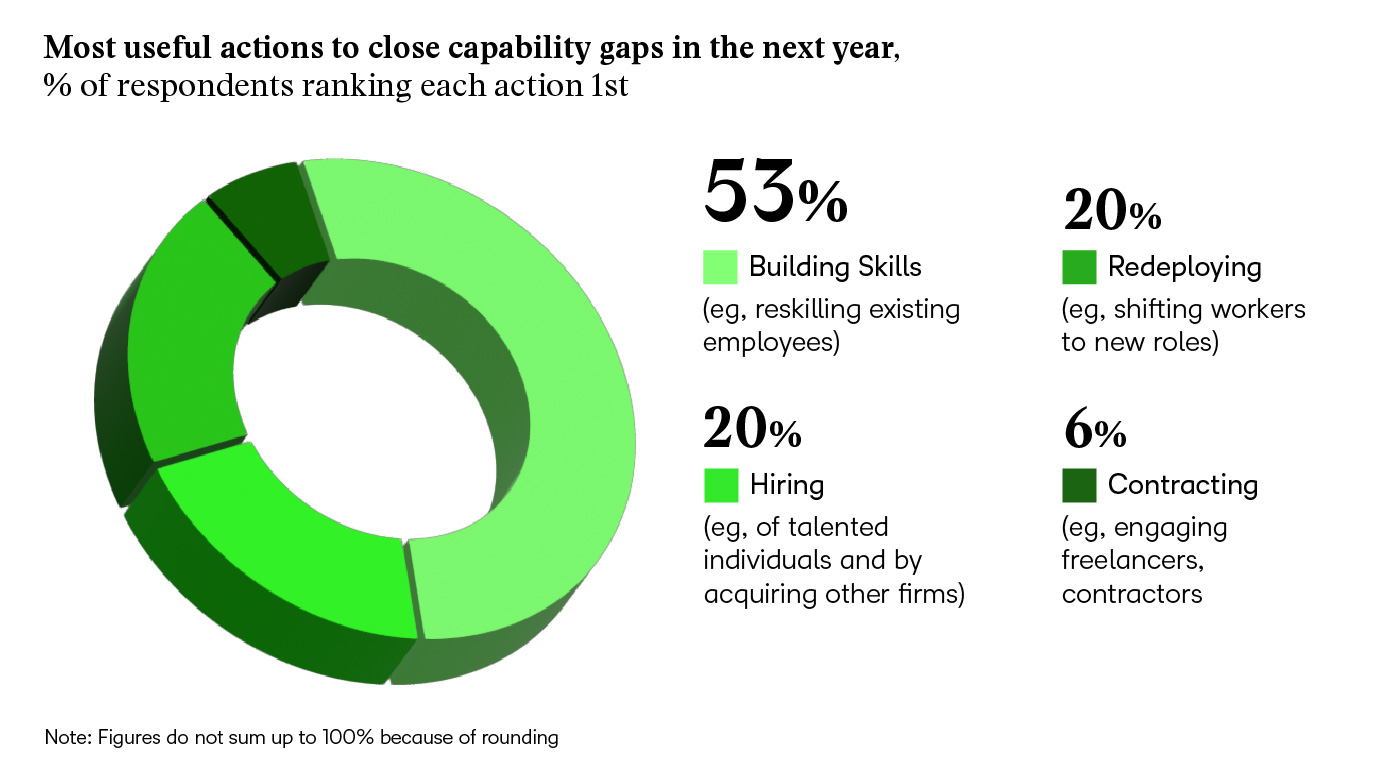 SOURCE: The skillful corporation (McKinsey & Company)
To upskill employees, your organisation needs to:
Perform a skills gap analysis
Develop an upskilling strategy
Communicate, implement and iterate your upskilling strategy
1. Perform a Skills Gap Analysis
A skills gap analysis evaluates your organisation's competencies and what it needs to achieve current and future goals. It's a multiphase project requiring a plan to:
evaluate areas of opportunity with your leadership team
measure existing skills
analyse results to develop a strategy
Evaluate Areas of Opportunity With Your Leadership Team
Start the process by sharing with your leadership team what you want to achieve with upskilling and ask for their input. Questions could include:
How can we better serve our customers? What skills will be required to do that?
What skills are most important to us as a company?
What jobs do we currently have a hard time hiring for?
What goals are we falling short on? Why?
Where are there friction points in key processes that might be solved with training?
What goals do we have for next year and beyond that will require skills we don't currently possess?
What roles do we anticipate needing over the next 12-18 months?
How do we foresee our organisation changing over the next three to five years?
Where could we create efficiency with additional training and/or automation? What would that efficiency enable?
What trends in engagement surveys and performance reviews can we address through upskilling?
While upskilling likely needs to occur at the organisational, departmental and individual levels, one approach that can work well is starting with individual job functions. This will make it easy to be specific without getting overwhelmed.
Collect Feedback Through Surveys
Once leadership has kicked off the conversation, they can set the stage for a more detailed follow-up with targeted surveys. With this two-pronged approach, you get the top-down and bottom-up input required for successful skills assessments ahead of strategic planning.
Prepare a survey with a balance of quantitative and qualitative questions to measure results with enough context to understand nuance and drive change. Quantitative responses can give you solid data points to anchor to, while qualitative feedback from employees can shed light on actual and perceived skills gaps.
Questions should assess skills needed to achieve both short- and long-term goals, including blocks to upskilling efforts. For example:
What skills will help you achieve your goals?
What skills would you or your team benefit from more training on?
Other factors to consider include what might get in the way of building new skills, such as:
current workload
program design
familiarity with company tools
lack of digital skills
manager support
information retention
At launch, frame surveys in a way that encourages honest answers. When possible, anonymise surveys to prevent fear of censorship that could limit the success of your upskilling program design.
Measure Existing Skills
Once you determine perceived skills gaps, get more specific through structured skills assessments—a more objective way to evaluate and address areas of opportunity. This will also allow you to establish a baseline to improve from and communicate progress across the organisation as you roll out upskilling programs.
You set the stage for upskilling success during the skills gap analysis with positive framing and an inquisitive mindset. Create psychological safety by openly discussing identified gaps in a solution-oriented way and being transparent about why upskilling is a priority. You can only close a gap if you know it exists.
It's important to be clear that this is a well-intentioned and collaborative effort that will lead to individual and collective success. And you can achieve this by getting top-down and bottom-up opinions from across the organisation. Openly communicating as you're evaluating areas of opportunity will also give employees confidence in your intentions.
Analyse Results to Develop a Strategy
Once you have input from leadership and the team, it's time to identify where the gaps are and what's the highest priority. Map trends in the data back to organisational goals established with your leadership team. An effective analysis tells a story with data, highlighting trends and surprises.
What gaps are the biggest?
Which are most urgent?
What obstacles might you face in implementing a strategy?
Upskilling is a continuous process. While you may emerge from analysis with a seemingly endless list of skills gaps to close, you can set reasonable monthly or quarterly goals to progress consistently.
Part of your analysis should clarify what is in and out of scope for upskilling efforts. Not all skills gaps will require training. Some may call for updating processes or systems or restructuring roles or even the organisation.
2. Develop an Upskilling Strategy
Once you have a sense of the skills gaps you need to close, you can begin to develop an upskilling strategy in-house or partner with an upskilling expert who can help you design a program for current and future success.
To develop an upskilling strategy:
establish clear goals aligned with company strategy
create a plan
collaborate with stakeholders
Establish Clear Goals Aligned With Company Strategy
An effective upskilling L&D strategy aligns closely with business strategy. You can set and track goals at the organisational, departmental and individual levels that cover:
how many people you're reaching through upskilling
the number of upskilling paths and/or skills your program offers
how your efforts have addressed skills gaps since the initial measurement
the impact on customer experience, team efficiency, employee engagement and morale, and any other key performance indicators you track for your business
When setting goals, balance the targeted skills. Organisations need to develop both dynamic and durable skills. Some may become quickly outdated as goals or systems change, but many can be durable long-term investments.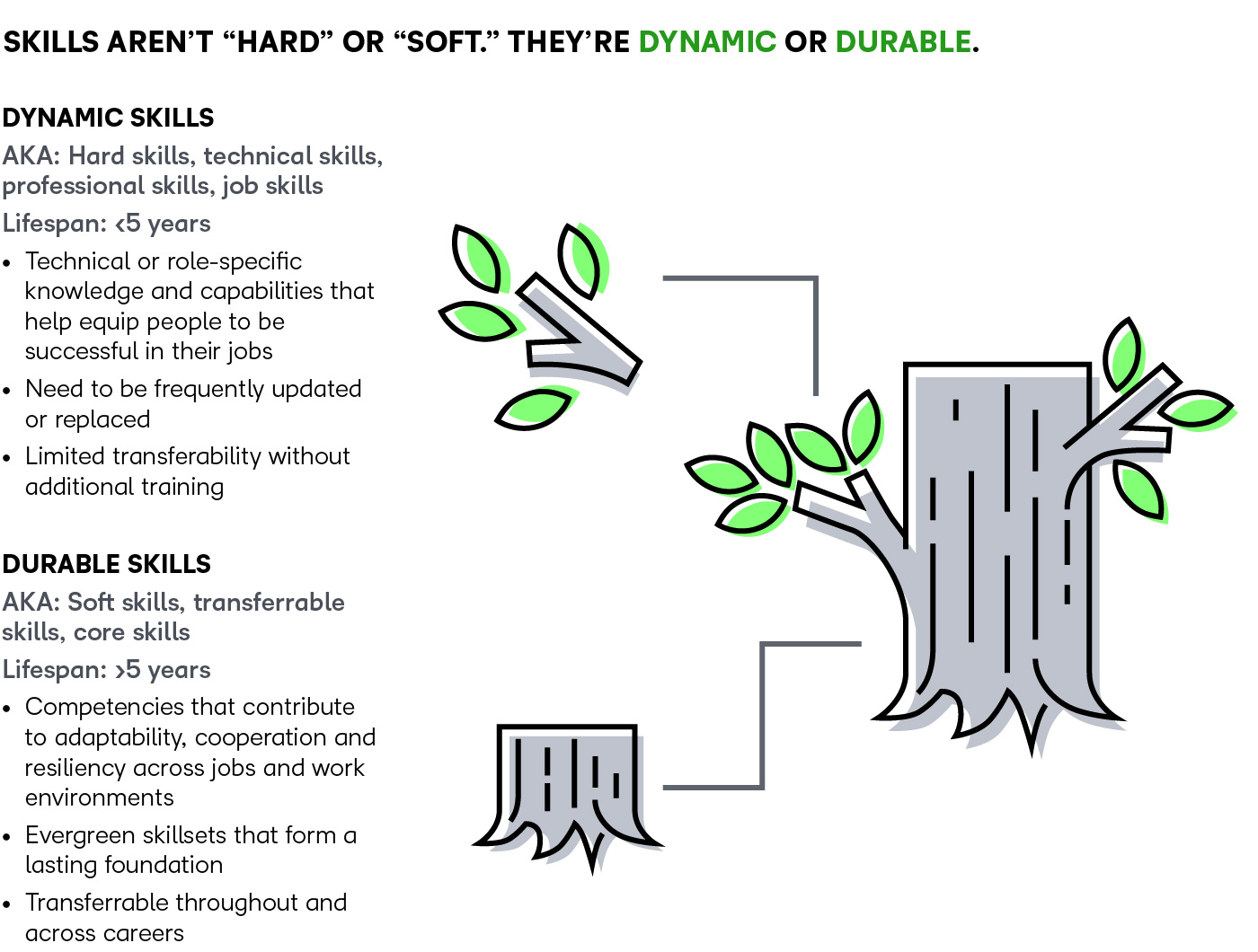 Growing organisations, in particular, may experience rapidly changing goals. Upskilling programs take time to develop, so balance agility with consistency to avoid causing whiplash for L&D leaders and all the business units they support.
In some business areas, goals may remain largely fixed year after year. Marketing drives leads, salespeople convert those leads into customers and customer success representatives develop relationships with customers to keep them. However, the availability of technology and a variety of competitors change customer expectations and the mechanisms needed to achieve those goals. For example:
A content marketer preparing to implement new systems to create more sophisticated, full-funnel campaigns needs to not only write content but be able to analyse and report on the pipeline influenced, requiring durable analytical and communication skills.
A sales development rep who's used to spending an hour or more crafting a personalised email may need training on software that can send personalised emails to the right prospect at the right time and systems management skills to keep the customer relationship management system up to date to nurture leads once they're engaged. Specific systems training may be perishable, but the learning agility required to adopt a new system is a durable skill.
A customer success team focused on retention may differentiate their company from other service providers through anticipatory service. They need skills such as active listening and problem solving to provide strategic, proactive service to accelerate time to first value. These are durable skills.
Create a Plan
"High turnover hurts companies—any CEO will tell you that. But it's usually a symptom of a deeper issue about job satisfaction, which itself is driven by learning and development," says D2L's Baker. "Don't get stuck in a downward spiral. Create positive momentum—with people learning new skills, sharing insights with others, and ultimately helping the company grow and transform. It all starts with making sure your people can see a pathway to personal growth through learning and development."
In our conversation with her, Animalz' Naji built on that, saying that training people in specific skills is secondary to helping them learn how to gain such skills faster.
"People need to be given techniques to help them acquire skills faster and more efficiently, such as a learning-for-life mindset, collaboration and openness to new ways of working. Once we've taught people this 'learning agility,' we can focus on skills gap identification and skill acquisition," she says.
Many L&D leaders use the 70-20-10 model of balancing learning between on-the-job (70%), collaborative (20%) and classroom training (10%). It's about moving beyond "butt-in-the-seat" training to be more engaging and effective, enabling people to learn during the flow of work.
In developing an implementation plan, ask questions such as:
What is the best learning experience to gain each skill? If a soft skill requires role play, group or video learning may be ideal. If a functional technical skill requires study and repetition, an e-learning course may be most appropriate.
How can we integrate theoretical and practical learning with work?
Who can teach each skill, and what resources will they need in terms of budget, systems and time?
What will we measure, and how often will we report on our findings?
An integrated upskilling plan may be overseen by L&D leaders but will require input and buy-in from ops, finance and all department leads.
One way to address the skills gap is through clear development levels for each job and a business model that factors in the time needed to ramp up (based on their level) plus the time needed for ongoing upskilling.
Says Manoj Jonna, CEO of Ramped, a job discovery and skilling platform, "Ideally, upskilling is accounted for in your teams' regular workload. Please don't take precious personal time away from them." Employees are more likely to take advantage of upskilling opportunities if they're offered during paid work hours.
Collaborate With Stakeholders
The best L&D leaders communicate effectively across functions and understand how to tie upskilling initiatives back to the goals of each department. They also know they may face resistance in implementation and plan for that in their strategy.
For companies to close the skills gap, leaders across the organisation must understand the positive impact upskilling will have in both the short and long terms in hours and money saved. L&D leaders succeed when they're able to show the financial impact of increased employee efficacy over time and be partners in helping other leaders figure out how to build upskilling into the workweek.
Asking open-ended questions and enlisting other stakeholders as partners in the process will lead to the best outcomes in and beyond upskilling.
What meetings could be held less frequently, asynchronously or skipped entirely?
How might employees be empowered to structure their own schedules with help from time management training?
Where are there opportunities to focus on process improvement and automation prior to or in tandem with an upskilling initiative?
When building out your upskilling strategy, be sure to factor in time for audits and updates. The best upskilling programs are actively maintained and iterated.
3. Communicate, Implement and Iterate Your Upskilling Strategy
Communicate and Refine
Communication is the difference between team members dreading mandated training and being excited about the opportunities to level up. While your strategy may feel finalised at launch, expect to continue to refine it based on feedback and learning from pre-launch.
Implementing an upskilling strategy starts long before you launch training. A learning culture is the basis for success here. While L&D leaders are working to develop a strategy, leadership can support by tying learning and continuous progress into core values and celebrating team learning in all-hands meetings, written updates, performance reviews and one-on-one conversations.
Share the upskilling strategy through the same forums, starting with leadership. Give every department time to communicate with their teams in small groups and one-on-one, and be a resource by providing templated communication so that everyone can share the same vision and goals tailored to their team's needs.
To address fears around automation, each team member needs to understand how their work and progress tie back to the team and organisational success and see how upskilling offers them opportunities to grow in and beyond the organisation.
Communication goes beyond vision and strategy. Team members should understand the how and what behind your upskilling program. When communicating, make sure:
time is scheduled for upskilling
people know how to enrol
everyone has the necessary access
there's a central place for questions and updates
leaders across the organisation are available as resources so that L&D isn't a bottleneck or siloed owner of upskilling
Increase accountability and take advantage of the opportunity to build by writing about how you're approaching upskilling on your company blog and social media. Once you begin to implement, you can also highlight success stories across your team.
Implement and Report
Communication will be as important at launch and post-launch as it was prior. Plan to consistently resurface upskilling opportunities to get employees to opt-in. Celebrate early wins, no matter how small. And ask for feedback within each training initiative to develop a strong feedback loop.
As leaders, we often grow weary of the message long before it's been fully embraced by the team. Department leaders can enable upskilling success by incorporating program reviews and skill assessments into regular one-on-ones.
Every person joins your organisation with different experiences and skills. Use individual development plans to set clear goals to address areas of opportunity for each employee, create customised timelines and ensure no one is left behind.
Says Naji, "Managers work with individual contributors to build objectives around skills gaps and key results that indicate incremental progress toward that objective. L&D leaders support managers in doing this with a good process and share the right resources and opportunities to help the team member on their journey. PDPs (professional development plans) work in a similar way, atomising the different parts of acquiring a new skill and guiding the team member through those parts."
Leaders who help team members proactively expect and plan for blocks will see better adoption and success. If you know time is a concern, help your team set aside time in their work week to take advantage of company L&D resources to close skills gaps.
Iterate
Set expectations with everyone on your team that efforts will take time to succeed and some initiatives may be experimental. Not everything will work, and that's okay. Your goal is continuous improvement in upskilling program design.
"It's darn hard. We keep pushing on it and building internal materials. What changed everything for us was getting everyone involved in more decisions," says Jeff Coyle, co-founder and chief strategy officer at MarketMuse.
To maintain momentum:
Ask for feedback regularly, both on specific training initiatives and the collective effort.
Give each effort the time and resources to work but don't be afraid to stop something that isn't working.
Share reflections with the team openly when you report and highlight areas of improvement as well as successes.
Why Now is the Time to Invest in Upskilling at Your Company
L&D job openings are on the rise as organizations invest in upskilling to achieve long-term growth goals. Here are a few reasons to prioritise upskilling now:
Upskilling Can Drive Recruitment and Retention
In a competitive job market, upskilling opportunities can help you close candidates and retain current team members. Upskilling is a way to offer prospective and current employees a clear path for progression in title, responsibilities and salary, which in turn could mean less money and time spent on recruitment. Have a current job opening that you're struggling to fill? With an upskilling program in place, you can include that on the job listing to increase candidate engagement and applications.
Team members often have diverse skills, skills gaps and zones of genius. Improve the likelihood of your upskilling program succeeding by including employee-driven options in your upskilling strategy.
Many companies offer an L&D stipend to create opportunities for team members to grow. In 2017, Buffer announced a $20 per month stipend. In 2019, the company surveyed team members to understand why the program wasn't being used and made two changes. It increased the amount offered to $800+ per year and broadened coverage to include coaching, courses, certifications and subscriptions. D2L offers each employee $4,000 per year to spend on external continuing education. Since launching in 2021, uptake in professional development is already two times the Canadian national average, with 22% of D2L's 1,100 employees registering for courses. People aren't stopping after the first one either. Over 50% of employees have completed their first courses and signed up for others.
Upskilling Can Close Skills Gaps
In a busy work environment, it can be challenging to rationalise giving employees time away from productive work. But the time invested in upskilling now can create more productive team members in the future, closing key skills gaps along the way. In evaluating whether to invest in upskilling, consider the increased output after upskilling is complete. How much more effective could the employee be, and how will that improve bottom-line results?
To avoid a major impact on short-term productivity, upskilling can happen online, asynchronously on a staggered schedule. This approach isn't just optimal for businesses. According to a McKinsey & Company study, 75% of people said that digital learning was the ideal skill-building format for their employees.
Upskilling Can Make Your Organisation More Resilient and Competitive
Upskilling prepares your team for future challenges and opportunities. Stay ahead of the pack in a competitive industry by proactively upskilling team members in line with future company strategy. Durable keystone skills such as creativity, problem-solving and analytical thinking will help your company continue to grow and adapt in our quickly changing world.
While there are many tangible outcomes of upskilling employees, companies invest for more than just retention or financial gain. How do your company values, mission, vision and purpose support ongoing L&D? Upskilling initiatives succeed when you build lifelong learning into the company culture.
As Naji says, "No one stays at a job forever, and nor should they; part of L&D's role is to upskill people to be the best they can be, both within our company and beyond."
Written by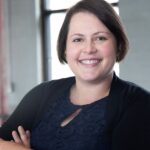 Haley Wilson
Haley Wilson is a Content Marketing Manager at D2L, specializing in the corporate learning space. She holds an Honours Bachelor of Arts degree from the University of Guelph as well as a Master of Arts focused in history from Wilfrid Laurier University.
Stay in the know
Educators and training pros get our insights, tips, and best practices delivered monthly